Sain Sadeeq Sahib (At Naghoon In Rajouri Tehsil Of Rajouri District)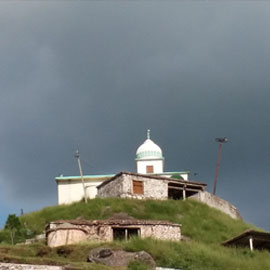 SainSadeeq Sahib (R.A) migrated to Rajouri from Khooi Kassi village of kotli(in POK) in the beginning of 15th century with his live stock and settled at Naghoon village of Rajouri town.

Sain Sahib's spiritual powers came to be known after an incident. Once Sain Sahib asked a woman from the village to provide water for his ablutions. The woman became sarcastic and asked Sain Sahib to arrange his own water if he was so saintly a person.

Sain Sahib felt offended. He went down his cottage and about 200 metres away struck his walking stick in the ground. Water gushed out of the ground and the saint offered his prayers. This water resource has been well maintained till today.
Sain Sahib's tomb has a strange story. He had built a trench (where the present shrine stands) for his meditation. The Saint would enter this trench, meditate and worship the whole time and then come out. Once Sain Sahib went into his trench but didn't return at all. So, he was not formally buried according to the Islamic rites. A Mosque and Langer have been constructed for the visiting pilgrims.
---