Facilities/Accommodations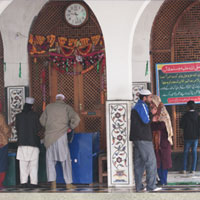 Arrangements for Devotees
A langar for male/female is available at Ziyarat Sharief, everyday it serves around 3000/4000 devotees daily. Kashmiri tea is also served. This shrine can cater to about 5000/6000 people at a time. It also has space for 800 beds. Shahdara Sharief Jamia Masjid is a Masjid attached to the shrine. Shahdara Sharief being a divine and spiritual place has at present all the necessary arrangements for the devotees with the blessings of Almighty Allah and blessings of Baba Ghulam Ali Shah "Shahnshah -e- Jabal R.A" thousands of devotees come and go, blessed with the heavenly blessings of Allah and his saint daily. This is the only Shrine in the sub-continent where the simple but free meals and accommodation is available to the pilgrims round the clock.
---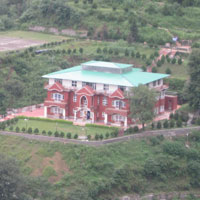 Rented Accommodation
Guest houses and dormitories
For the benefit of the pilgrims, Auqaf Islamia Shahdara Sharief provides clean, well maintained and very economical accommodation. This accommodation is available atShahdaraSharief(Bait-ul-Zaireen, Guest Houses no.01, 02 & 03). The available accommodation is in the form of rooms of various types i.e. suites and beds (dormitory accommodation) etc. Dormitory accommodation is available at main complex ShahdaraSharief and Bait-ul- Zaiyreen Building.


Accommodation for all Guest houses/dormitories can be booked at (subject to availability) enquiry and reservation counter at Guest House No. 02 room no. 06 and online booking is also possible through this website. For maximum chances of obtaining confirmed room reservations at various locations, devotees are advised to make the necessary bookings well in advance keeping in view influx of the pilgrims to avoid inconvenience
---
---
Security
Police Security
State Administration has established one police post at Ziyarat complex and one company of Jammu and Kashmir Armed police remains deployed in the premises of Ziyarat Sharief. Regular patrolling of the premises,monitoring, vigilance and necessary action with regard to suspicious elements are part of their duty. Door Frame Metal Detectors have also been installed to ensure foolproof security of the pilgrims and the Shrine. The services of the police can also be availed in case of any incident or emergency with the devotee