About Baba Ghulam Shah Badshah (R.A)
Introduction
Sayed Ghulam Ali Shah Mashadi is known as Baba Ghulam Shah Badshah(R.A). His forefathers belonged to Mashad Iran that is why he was called Mashadi. His grandfather "Peer Yar Ali Shah(R.A)" (famously known as Tahir Prinda) migrated from Mashad (Iran) during mid fifties of 16th century in connection with preaching of Islam and settled at village "Sayedan Kasrawan" in today's Chakwal district of Punjab now in (Pakistan) then a small village of Rawalpindi District. His grandfather had three sons and one of them the father of Baba Ghlam Shah was Sayed Idrees Shah (R.A). Both father and grandfather are having their Mazaars at SyedanKasrawan. There is a large graveyard which tells the story of this important settlement of Mashadi Sayeds since 14th century AD periods till date.
Route Halt ages (Takyas)
March from Saydan-Kasrawan to Shahdara Sharief.
During this period Murshid of Baba Ghulam Ali Shah (R.A) Peer Sayed Latief Hussain Shah (R.A) popularly known as Imam Barry used to live at Noorpur Shahaan village in Rawalpindi, now close to the capital city of Pakistan's Islamabad. While observing the uncomprehendable behaviour of Baba, his father Sayed Idrees Shah (R.A) took him and presented before Imam Barry Paak(R.A) in 1159 Hijri. On having a look at the boy Imam Barry(R.A) smiled and said, "Peer sahib, kindly go and take care of this boy, He will become a great Wali of his time. I am observing that he will change the (SEIN-DARA) place of lions into Shahdara Sharief and will not remain in and around Rawalpindi, will stay in the mountains of Kashmir." Peer Idrees Shah (R.A) took his son back to his village Sayedan Kasrawan.

After few days Baba (R.A) left his own village, relations and everything and went to Dargah of his spiritual guide (Murshid) Sayed Hazrat Latief Hussain (Imam Barry) (R.A) at the village Noorpur Shahan (Paak Patan). Baba (R.A) stayed there for two years with Imam Sahib (R.A) at the age of 8 years. Murshid told Baba (R.A) that in dream, he had taken a quick action to disclose the secret bestowed upon him by the divine power, although this was not the ripe time to disclose it. He told Baba (R.A) that an order had been passed by Jenab Shiekh Abdul Qadir Geelani (R.A) from Baghdad (Iraq) from his tomb or Roza Paak that he should get ready to take the responsibility/duties in (Pahar Kashmir) mountains of Kashmir at "SeinDara" where he had been assigned the kingdom to benefit the people with spirituality and Islamic preaching. Baba (R.A) was made to make a spiritual tour of Sein Dara in dreams and introduced him with the topography and landscape of the place. He (R.A) was given certain hints like place was a thick jungle where in there were loins, and that he would leave a goat there, a loin would come and make seven rounds around the goat and thereafter slip away carrying the goat, Baba(R.A) was told to cut the trees, dig and fire would emerge. That place shall be the SeinDara. It was at the age of 10 years, Baba Ghulam Ali Shah (R.A) was told by his guide to march towards the north of Rajouri, near Thana Mandi where he would find the requisite place called SeinDara.
Arrival of Baba Sahib (R.A) at Shahdara Sharief
During his journey Baba Sahib(R.A) reached Daraba village. At Daraba Patodi, Baba Sahib (R.A) on one Thursday night met his Murshid Hazrat Imam Barry Paak (R.A) in dreams, Murshid Paak told Baba Sahib to move across the mountain to reach his destination as he was near it. Anyhow, on the next morning Baba Sahib (R.A) decided to leave for SeinDara. Disciples tried to persuade him to stay for some more days at Patodi Daraba but he did not do so and along with his Khuddams Baba (R.A) proceeded towards Machgi Chamrede Gali which was the border line between the kingdom of Rajouri and Poonch. At ChamredeGali, Baba Sahib (R.A) threw his (Pool) shoes made of rice straw towards Poonch and said, "I shall not carry even this Poonchi (Pool) shoe to Rajouri area," because Baba Sahib (R.A) was very annoyed with Raja Rustam Khan of Poonch.

After crossing ChamredeGali, Baba Sahib reached Banghai. Where he was given warm welcome by the followers of Hazrat Ubaidullah Larvi (R.A) and his son Baba Nizam-ud-Din Larvi Naqshbandi (R.A) Mostly this village was inhabited by Gujjar community, for which Baba Ghulam Shah Badshah (R.A) had prayed to the Almighty Allah for grant of abundant milk and milk producing animals. "Allah Huma Aata Hazehil Halibun Kasirunnwa Rizqanwasal". There are unbuilt Takyas in the village Bangahi. At last Baba Sahib (R.A) reached the spiritual destination foretold by his Peer-Murshid along with his well-off followers from the village in 1180 Hijri/1765 A.D. at the prime age of 32 years and covered his spiritual journey from Sayed-Kasrawan Punjab Pakistan to Shahdara Sharief Rajouri in 22 years.

While coming from Banghai, Baba Sahib (R.A) took a goat along with him and entered the forests of SeinDara where at that time it was very thick Deodar and Oak forest known as the place of Lions. When Baba's caravan reached the present Shahdara Sharief location one lion was seen there. Baba Sahib left the goat according to his Murshid's instruction. The Lion and the goat both had seven rounds of the place and thereafter all of a sudden slipped away. Baba Sahib (R.A) dug the place for five days and where finally he saw the fire he said, "Alhamd o Lillah" he had reached his place. Baba Ghulam Shah Badshah (R.A) asked his men to cut down trees of the forest in order to start a langar.
Construction of Maqbara/Tomb Death of Baba (R.A)
Baba Ghulam Shah Badshah( R.A) remained for about 41 years at Shahdara Sharief between 1765 AD to 1806 AD and meditated in solitude (Chila). He left for his heavenly abode in January 1806 A.D i.e. 1226 Hijri(Inna Lilla Hay Wa Inna Ale Hay Raajeoon). In this way Baba Ghulam Shah Badshah, stayed for 5 years at BandiChechyan, some months at Bandyan, 5 years at Lasana and Sanai, 7 years 9 months at ShahiSattar and Kalaban, 2years at PatodiDaraba and 41years at Shahdara Sharief totalling 73 years of age and it is believed that Baba Sahib (R.A) was in his prime youth about 32 years when he reached at Shahdara Sharief. It is said that Baba Sahib (R.A) got constructed the Tomb Maqbra during his life time from a craftsman of Multan. It is also said that Baba Sahib (R.A) came in the dream of Multani craftsman and directed him to reach Shahdara Sharief. He first went to Lahore Shahdara now in Pakistan. He was however, again advised to reach Shahdara Sharief in Rajouri, Kashmir. Ultimately craftsman reached the Darbar of Baba Sahib (R.A) and constructed the Maqbra which was completed in 1804 A.D i.e. 1224 Hijri.
The Legendary Ever Green Tree (Sada Phal)
About Ever Green Tree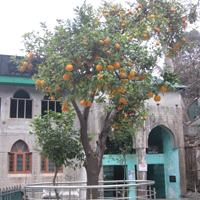 It is said that once Baba sahib was sitting close to the "Much" (burning fire) and a piece of wood was not catching fire i.e. (It did not burn at all ) Baba sahib became angry and threw that piece of wood saying if you cannot burn keep on fruiting (Baldi Nahin Te phaldi Ro) and ultimately this piece of wood grew in to an evergreen fruit plant which bears fruits and leaves throughout the year and is not affected at all by a change in season.

The fruits are orange or yellow in colour when ripe some are green also, no one can touch them nor can take them until and unless it naturally falls. "Nigah-e Wali Main Wo Taseer Dekhi Badalti Hazaroon ki Taqdir Dekhi"