Ziyarat Panj Pir Rajouri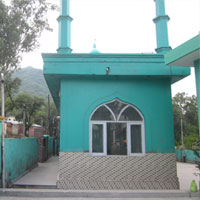 A few Kilometre. away from Rajouri town there is another, sacred shrine named PanchPir. A large number of people including Army and Para Military personnel visit the place round the year especially on Thursdays for seeking blessings and paying obeisance.

Being located at the Rajouri Jammu highway road side, the shrine is within the easy reach of every passerby. These are the graves of five saint brothers and a sister who had come here from Punjab.
---